Thanksgiving is all about the kitchen and the magic it creates, so naturally, we can't get enough of this holiday. When Kitchen Distributors' designers sit down with a client to go through the needs of their new kitchen, 9 times out of 10 the holiday season is a topic of conversation. It's essential that our team knows what the typical Thanksgiving looks like for you and your family – AKA, do you host and if so, how many people, how large is the meal you cook, etc etc – so that your new kitchen is functional and beautiful for the big day.
With the holiday fast approaching, it's only right to pivot our attention from kitchen design to what gets made in the kitchen. Whether you'd like to go all out or keep the meal simple, we've pulled five unique turkey day dinner menus that will not only put your kitchen to work, but also please your guests.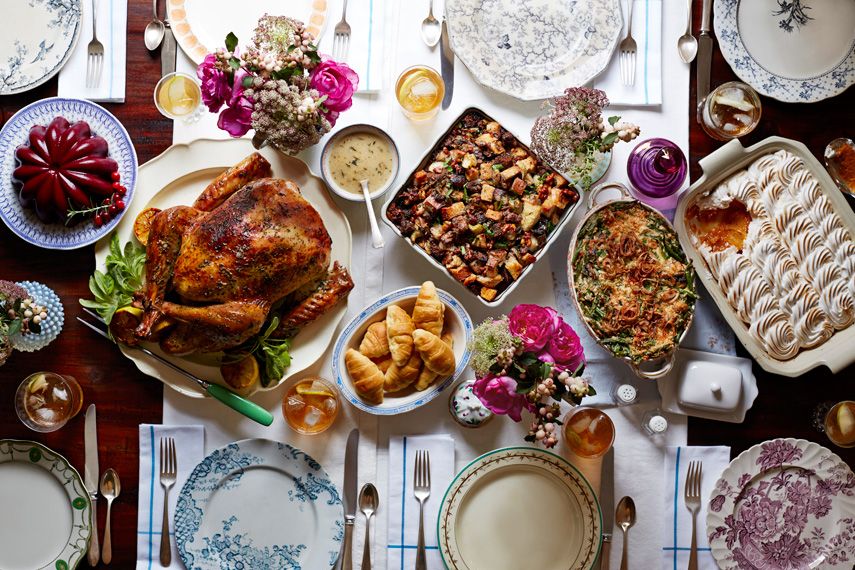 Time to get some use out of your vintage china! Here's a few fresh twists to time-tested staples, from green bean casserole to cranberry sauce, for a retro meal rooted in nostalgia. Oh, and don't forget to queue up an old-school playlist to match.
Main Course
Herb & Citrus Butter Roasted Turkey: Oven management on the big day can be hectic, but don't stress. Bake your sides once the bird comes out of the oven. The turkey will stay warm for about an hour, leaving you plenty of time to finish cooking the meal. View the recipe ->
Sides
Apple-Walnut Stuffing: Better bread means better stuffing, so use a mixture of artisanal breads such as pumpernickel, sourdough, and multi-grain varieties. The hearty, chewy texture and flavorful crust holds up to the stock. Toss dried fruits such as apricots, figs, or raisins in with the apples for an added touch of sweetness. Assemble this casserole up to a day ahead, and simply cover and chill. Let stand at room temperature 30 minutes and then bake as directed. View the recipe ->
Maple Meringue Sweet Potato Casserole: A sweet update to a holiday must-have. Roast and mash the sweet potatoes up to 2 days ahead and chill. Let stand at room temperature 30 minutes before proceeding with the recipe. View the recipe ->
Green Bean Casserole with Fried Shallots: A rich sauce with caramelized onions, mushrooms, and a touch of Parmesan elevates this traditional side. For a twist, add chopped sun-dried tomatoes or diced roasted red peppers to the sauce. View the recipe ->
Rosemary-Port Cranberry Sauce: Boozy port and Grand Marnier are a match made in heaven when paired with tart vibrant cranberries. Rosemary and ginger offer an update, and the molded shape is a fun throwback touch. View the recipe ->
Dessert
​​Chocolate Brown Sugar Butter Cake with Spiced Pumpkin Frosting: Rich brown sugar cake is made even tastier with a touch of chocolate and a fall-spiced cream cheese frosting. Pecan halves make a yummy decorative garnish. View the recipe ->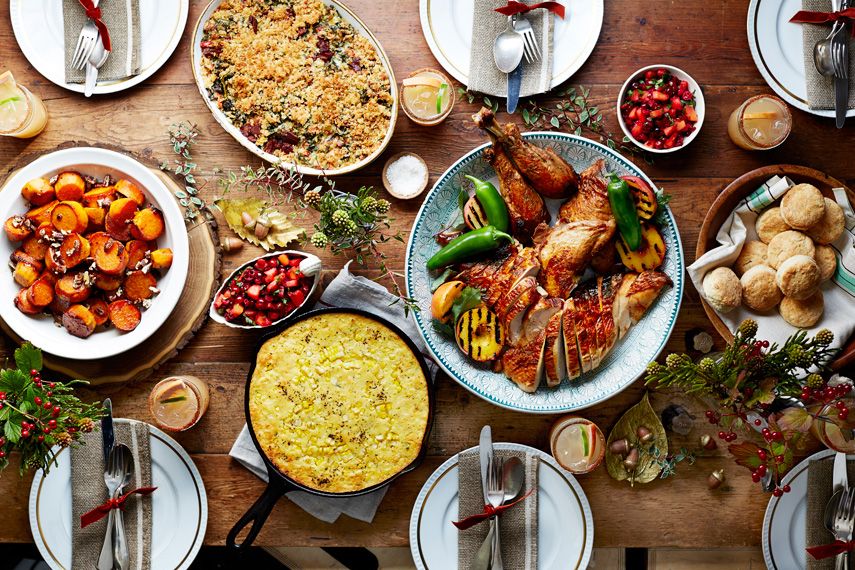 This down-home gathering has a hint of Texas twang and is perfect for the casual, potluck kind of crowd. Opt for simple dishes (serve the chili spoonbread straight out of the cast iron skillet!) and use wood slices instead of chargers.
Main Course
Deep-Fried Turkey: If you have a crowd or want extra leftovers, you can fry an additional turkey in the same oil—just be sure to heat it back up to 350°F. Save your oil containers; they'll come in handy when it's time to clean up. View the recipe ->
Sides
Pickled Peach-and-Cranberry Salsa: Stir leftover salsa into mayonnaise and Dijon mustard for a spicy-sweet day-after turkey sandwich. View the recipe ->
Jalapeño-Green Chile Spoonbread: Spoonbread is a super-quick alternative to cornbread dressing — and it's easy enough for weeknights. Look for hatch chiles, prevalent in the Southwest, for a robust pepper flavor. Stir in 1 cup grated Cheddar for a richer cheesy dish. View the recipe ->
Baked Kale Gratin: This gratin is inspired by spinach dip. You can substitute collard, turnip, or mustard greens for the kale, but be sure to remove tough thick stems. View the recipe ->
Sorghum-Glazed Sweet Potatoes: To make ahead, cover and chill cooked potatoes in glaze in baking dishes the day before. Let stand at room temperature, then reheat covered at 350°F for about 20 minutes or until thoroughly heated. View the recipe ->
Dessert
Apple Crostata: Apple pies get all the attention in fall. Why not bring a little excitement to the classic dessert by making a rustic and beautiful crostata instead. View the recipe ->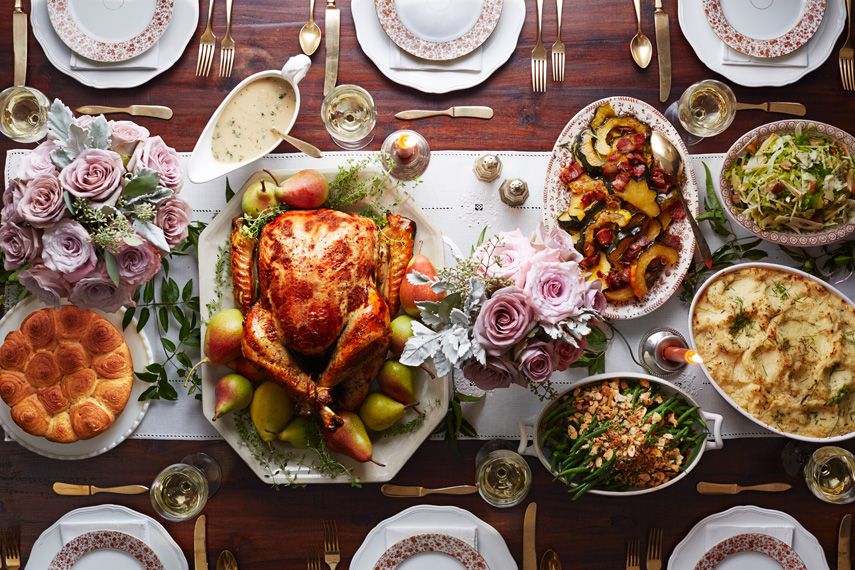 This spread celebrates the season's bounty with crowd favorites taken up a notch. A simple white table runner and fresh flowers set the scene beautifully.
Main Course
Pear-Thyme Brined Turkey: Be sure to choose a fresh, unbrined turkey for this recipe. Many varieties are injected with a salt solution prior to packaging and will make this dish too salty. Reserve a couple of thyme springs to use in the gravy. View the recipe ->
Sides
Buttermilk-Boursin Mashed Potatoes: Ditch the boxed potatoes this year and make this luxurious take on mashed potatoes with full-flavor Boursin cheese. View the recipe ->
Roasted Acorn Squash with Maple-Bacon Drizzle: This hearty side dish is a delicious way to add great veggies to your meal. Not to mention you that can never go wrong with bacon. View the recipe ->
French Green Beans with Garlicky Almond Breadcrumbs: Green beans get a French-inspired makeover in this delicious side dish. Serve it with Thanksgiving turkey for a fast and satisfying side or toss it together for an elevated weeknight treat! View the recipe ->
Shaved Brussels Sprout-and-Chestnut Salad: This easy and fresh salad has all the makings of an autumnal classic. After giving it a try you will be searching for a way to fit it on the Thanksgiving table. View the recipe ->
Dessert
Spiced Pumpkin Latte Cheesecake: Upgrade the classic cheesecake by adding the flavors of a seasonal favorite: the spiced pumpkin latte! View the recipe ->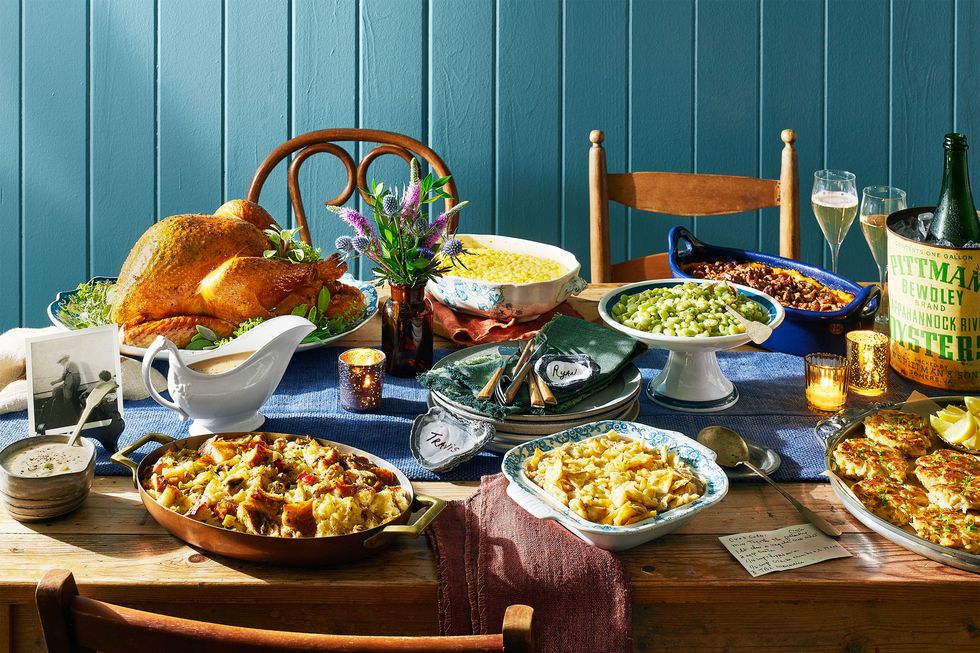 Fourth-Generation oyster farmers and cousins Travis and Ryan Croxton of the Rappahannock Oyster Co. cook a menu of simple Southern-costal fare—with lots of local oysters, of course—that "predate[s] any of us" says Ryan. After all, if it's already outstanding, what is there to improve upon?
Main Course
Simple Herbed Turkey with Easiest Ever Gravy: Loads of butter keep the meat moist, and handfuls of flavorful fresh herbs keep it simple and tasty. View the recipe ->
Sides
Oyster Pie: Give your Thanksgiving a taste of the Chesapeake Bay with this simple heirloom recipe. View the recipe ->
Best Ever Crab Cakes: Give your next feast a touch of Southern coastal flair. View the recipe ->
Oyster Stuffing with Bacon-Scallion Cream Sauce: For a richer, more delicious stuffing, add some Chesapeake Bay flair. View the recipe ->
Bourbon Yams: Because your Thanksgiving yams deserve a kick. View the recipe ->
Nana's Famous Corn Pudding: Creamy corn pudding is a traditional Southern Thanksgiving side — as well as an anytime dish — from all over the South, but especially Appalachia. A casserole that's similar to bread pudding, it's a simple, hearty dish that easily rounds out a meal, or adds to the fare at a potluck. View the recipe ->
Dessert
Cranberry Walnut Shortbread Bars: Give your Thanksgiving dessert table a pop of sweet cranberry flavor! View the recipe ->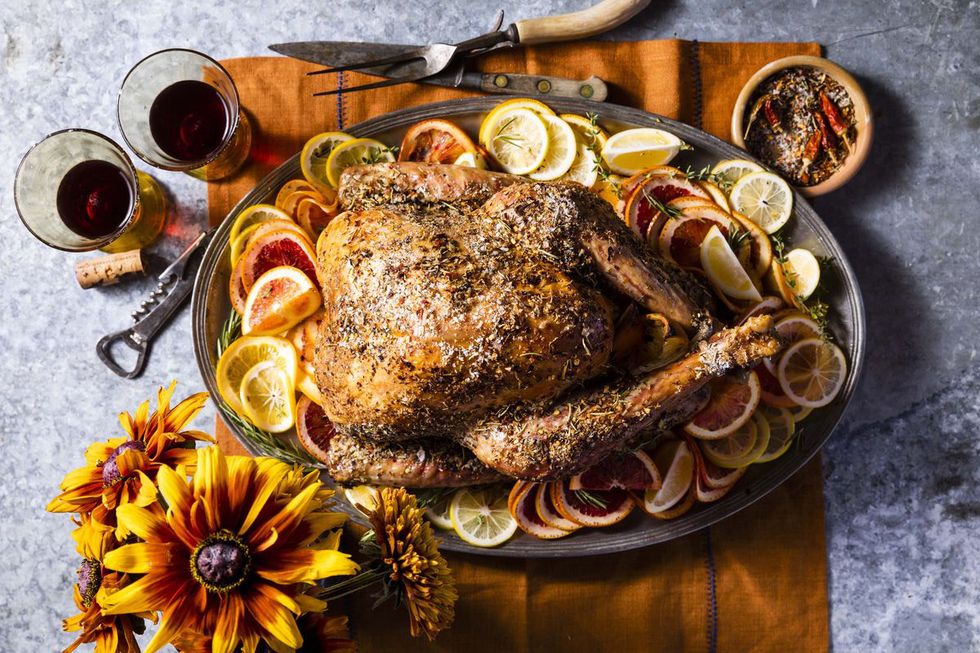 Grilling isn't just for warm-weather get-togethers. In fact, Thanksgiving may be the perfect time to break out the Weber: Wood chips will impart incredible flavor to turkey meat, and it frees up valuable oven space for making a variety of delicious sides, such as potatoes and cornbread.
Main Course
Grilled Citrus-and-Spice Turkey: Citrus and spice make everything nice for this delicious take on a Thanksgiving turkey. View the recipe ->
Sides
Crispy Brussels Sprouts Salad with Citrus-Maple Vinaigrette: Fresh and light, we can't believe we've never tried a salad like this on our Thanksgiving menu before. View the recipe ->
Cast-Iron Hasselback Potatoes: There are few side dishes both easier or more impressive-looking than hasselback potatoes. There are also few ways to make a potato that are more delicious. Combining the best features of both roasted and fried potatoes, hasselback potatoes' fanlike shape creates a perfect housing for oodles of butter, which help each slice turn crispy in the heat. And yet the inside of the potato still roasts, becoming fluffy and delicious. View the recipe ->
Skillet Cornbread with Honey Butter: Though we love our cast-iron skillets for all kinds of recipes, if we could only make one thing in it, we'd pick cornbread, without question. A well-seasoned skillet stays nonstick enough that a well-cooked cornbread will pop right out. But that heat-holding, crumb-searing iron gets the bottom crispy and keeps the crumb tender in a way that no other kind of dish does. View the recipe ->
Desserts
Salted Caramel-Apple Slab Pie: This delicious pie meshes two of our favorite sweet flavors – salted caramel and apple pie. View the recipe ->
Brioche Bread Pudding with Bourbon-Butterscotch Sauce: What makes brioche bread even better? None other than bourbon-butterscotch sauce. View the recipe ->