Nature-inspired colors and textures define a kitchen sized-up for a crew of six.
By Cheryl Meyers, Daliah Singer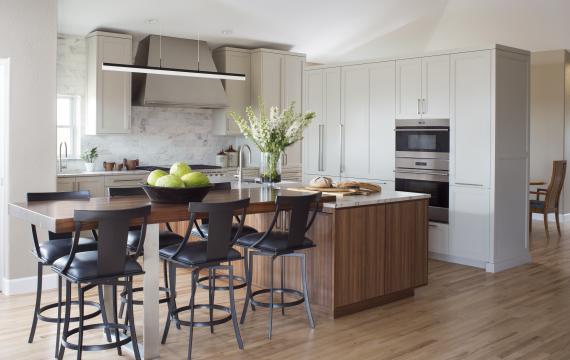 If there's one thing a kitchen designed to handle the whims of four kids needs, it's space. Which is the one thing this Loveland family of six didn't have, because of a giant floor-to-ceiling fireplace. Knocking it down and removing a couple of extra walls was step one of Kitchen Distributors designer Brett La Hay's plan to open up the kitchen and make it more welcoming for the large family. She added a half-wall (which holds the fridge, microwave, and an extra oven) behind a white Macaubas-quartzite-topped island to prevent the newly expanded room from overwhelming the rest of the main floor.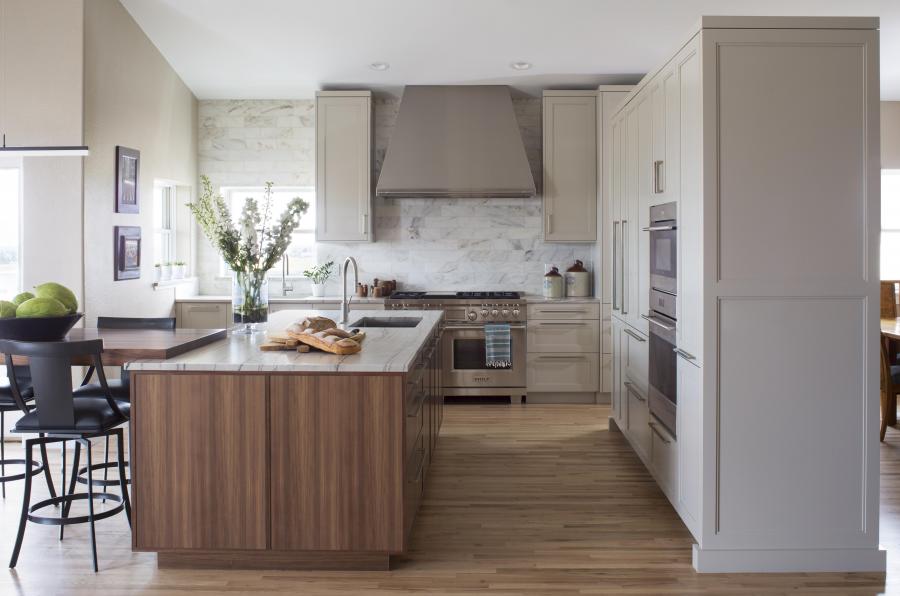 Step two for La Hay was lightening up the color palette and creating a connection to the outdoors. (The home, built in the late 1980s, is nestled into the foothills of Loveland and surrounded by farmland.) La Hay accomplished those goals by dreaming up a walnut-topped extension to the new island; incorporating brown, green, and gray tones in the finishes; and adorning the Artcraft Kitchens cabinets with handmade bronze hardware (from Rocky Mountain Hardware) that sports a subtle organic texture. "Anything overly manmade, with too much shine, would have been out of place in the home," she says.
The handsome design is functional too: Double sinks and various workspaces mean multiple family members can cook simultaneously, and outlets hidden under the table make it a convenient spot for teens to do homework. For the grown-ups, a coffee station, complete with a faucet and lighting, is concealed behind doors in the half-wall. Because if there's one thing parents of four kids need easy access to, it's caffeine.
Design Pro
Kitchen Design: Brett La Hay, Kitchen Distributors