Warm weather is officially here to stay and at Kitchen Distributors, we believe summer is one of the best seasons for cooking. Between barbecuing outside and fresh fruits and veggies being in season, having the ultimate summer is all about indulging in your favorite foods and drinks. To ensure you can spend your vacation days and weekends whipping up fun dishes or being the host who does the most, we've compiled our favorite kitchen essentials and gadgets to treat yourself to this year.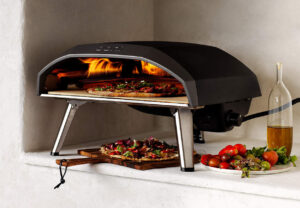 Ooni Koda 16 Outdoor Pizza Oven
Want to elevate your summer gatherings? Impress your guests with a homemade pizza station in the comfort of your own backyard! To get the job done, we are loving the Ooni Koda 16 Outdoor Pizza Oven from Crate and Barrel.
Description: With a heating capability that rivals professional pizza ovens, the Ooni Koda 16 outdoor pizza oven cooks grand 16-inch pies to perfection at home—or anywhere—in 60 seconds flat. The gas-powered oven heats to blazing cooking temperatures in just 20 minutes, with the built-in instant gas ignition making it easy to get started. The cordierite pizza stone retains and diffuses heat evenly to create dreamy crusts, and the baking board also cooks steaks, fish and vegetable kebabs. The sleek carbon steel oven brings a dynamic, modern look to your porch, patio or any outdoor feast, then the legs fold away easily for compact storage.
Handmade Berry Bowl with Saucers
'Tis the season for fresh fruit! These handmade berry bowls, from Shoppe Amber Interiors, are perfect for rinsing and storing fruit or making a beautiful fruit serving dish.
Description: As charming as it is handy, the handmade Berry Bowl with Saucer features a ceramic colander with drainage holes cleverly placed in an abstracted floral pattern. With a fitting saucer to catch any spillage, this is the perfect piece to use as a colander to rinse and store fruit – or alternatively, try it next to the sink as a convenient holder for damp sponges and brushes.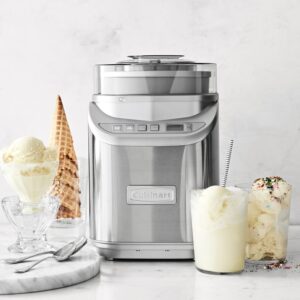 Cuisinart Electric Ice Cream Maker
There is no doubt that ice cream is on the menu this summer. Even better if you can make it from home as a family activity, right? Right! A fan favorite is the Cuisinart Electric Ice Cream Maker from Williams Sonoma.
Description: The ultimate homemade frozen treats are just minutes away when you're equipped with this hardworking machine – from velvety ice cream and gelato to refreshing fruit sorbet and frozen yogurt. Great for parties and everyday fun, it whips up a generous batch of your favorite frosty dessert at the touch of a single button.
Super-efficient electronic ice cream machine produces up to two quarts in roughly 20 minutes.
Digital control panel has a countdown timer and one-touch settings for ice cream, gelato or sorbet.
Intelligently engineered mixing paddle stirs ingredients at ideal speed for chosen dessert.
Lid has a spout with integrated measuring cup for adding mix-ins like chocolate chips and nuts.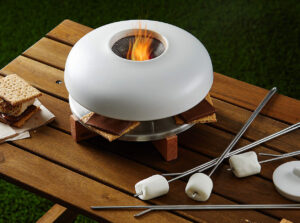 Chef'n S'mores Roaster
Those who live in Colorado, or other western, dry states, tend to shy away from large bonfires in the summer due to the risk of wildfire. This doesn't mean you can't enjoy an old-fashioned s'more though! With the Chef'n S'mores Roaster, you can whip up delicious s'mores, Scandinavian-style.
Description: The cutest campfire ever, no camping required. Boasting serious Scandinavian style, this petite s'mores roaster elevates a white ceramic dome upon a wooden base that evokes crossed logs. Use the stainless steel sticks to roast your marshmallows to golden brown—or intentionally scorched—perfection above the flame while squares of chocolate soften on graham crackers below. Suitable for outdoor and well-ventilated indoor cooking, the roaster makes a sweet gift for the s'mores enthusiast.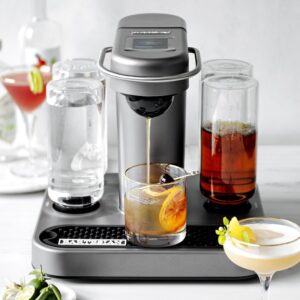 Bartesian Premium Cocktails on Demand
This season isn't just about food. It's also about the cocktails! In our opinion, the Bartesian Premium Cocktails on Demand is what every host needs.
Description: Savor the premium pours of a cocktail bar from the comfort of home with the award-winning Bartesian cocktail maker. Simply pop in a capsule, select your strength and press Mix – your perfect cocktail is ready in seconds. Bartesian cocktail capsules are created by master mixologists and include fresh ingredients for favorite drinks like margaritas, whiskey sours and old-fashioneds. You get all the benefits of a fully equipped bar without having to stock mixers – just have your preferred spirits on hand, and Bartesian does the mixing and measuring for you.
Makes professional mixologist-crafted cocktails in seconds.
Recyclable capsules (sold separately) contain natural ingredients, dated for freshness.
Barcode-reading technology ensures precisely measured and mixed cocktail every time.
Five tempered glass bottles hold preferred base spirits – whiskey, vodka, rum, gin or tequila – and water.
Faux Bois Melamine Dinnerware
The summer months are meant for enjoying our favorite meals outside on our decks and patios. That said, for these moments it's best to use outdoor-friendly dinnerware. One of our favorite sets this year is the Faux Bois Melamine Dinnerware from Crate and Barrel.
Description: The look of wood with the durability of melamine. Realistic wood grain patterns the interiors of our organically shaped Faux Bois dinnerware collection, perfectly complementing the neutral exteriors. An excellent choice for hassle-free dining whether outdoors or in, the dinnerware is dishwasher-safe and BPA-free.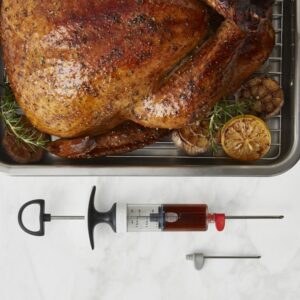 OXO Flavor Injector
What's on your grill? Next to ours, we have the OXO Flavor Injector to make our meats juicier and full of flavor. It has two stainless steel needles—for thick and thin marinades—and a large handle for a comfortable grip.
Description: The best way to infuse your meat with added flavor is to inject it. OXO's Flavor Injector accelerates the process with this handy tool. Simply fill the BPA-free Tritan™ tube to your desired amount of marinade using the convenient measurement markings, and inject your bird or roast with succulent flavor. The large, open handle provides a comfortable grip while pushing at any angle.