The homeowners, who split their time between Naples, FL, and Steamboat Springs, CO, sought a peaceful urban retreat in Denver, where they found a promising unit at One Polo Creek. Recognizing the need for extensive remodeling, their builder made the connection with Kitchen Distributors, resulting in Linda McLean, Kd. designer, taking on the role of interior designer.
Our initial connection went beyond professional rapport; we shared not only similar design philosophies but also personal tastes and personalities. Given the compact, enclosed kitchen space, we aimed to expand it to accommodate appliances and the client's wish list while creating a more open living area. This transformation involved borrowing some space from the adjacent laundry room and removing partition walls to embrace an open-concept design.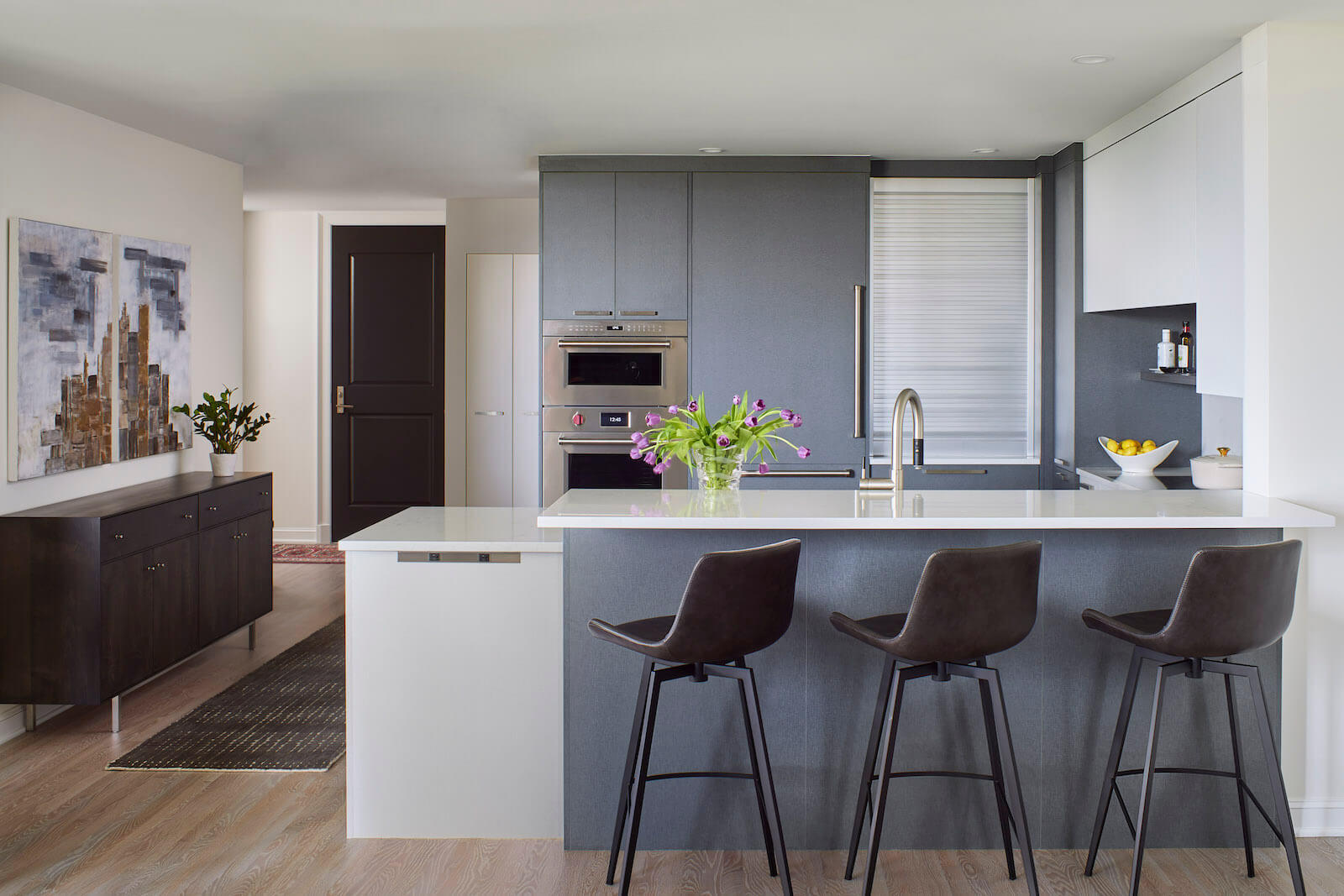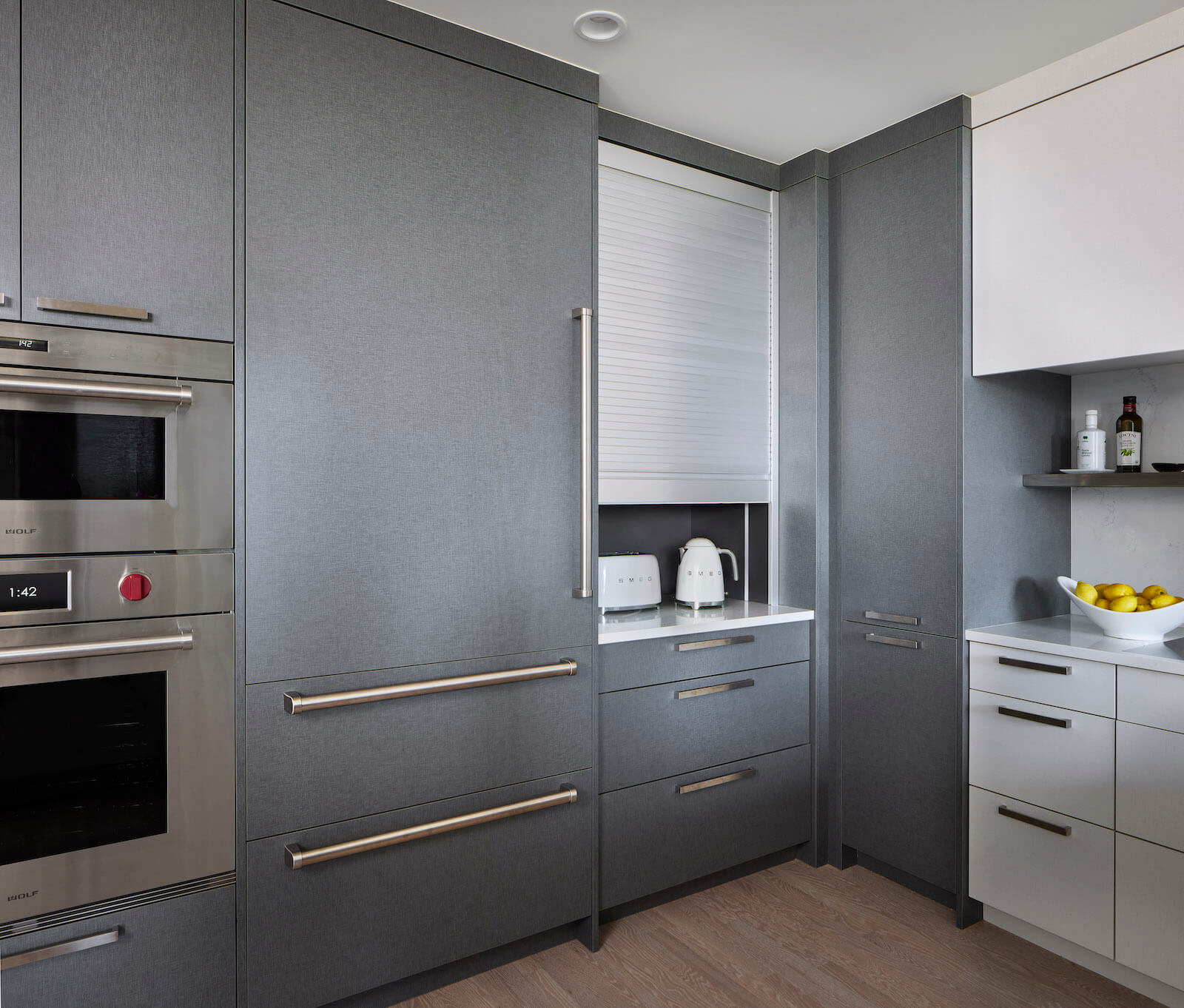 Our design direction leaned toward contemporary aesthetics, emphasizing a dark and light palette to serve as an elegant backdrop for art and furnishings that could introduce bursts of color. Rather than opting for an all-white kitchen with black countertops, we chose a dynamic blend of dark and light cabinetry for added visual interest.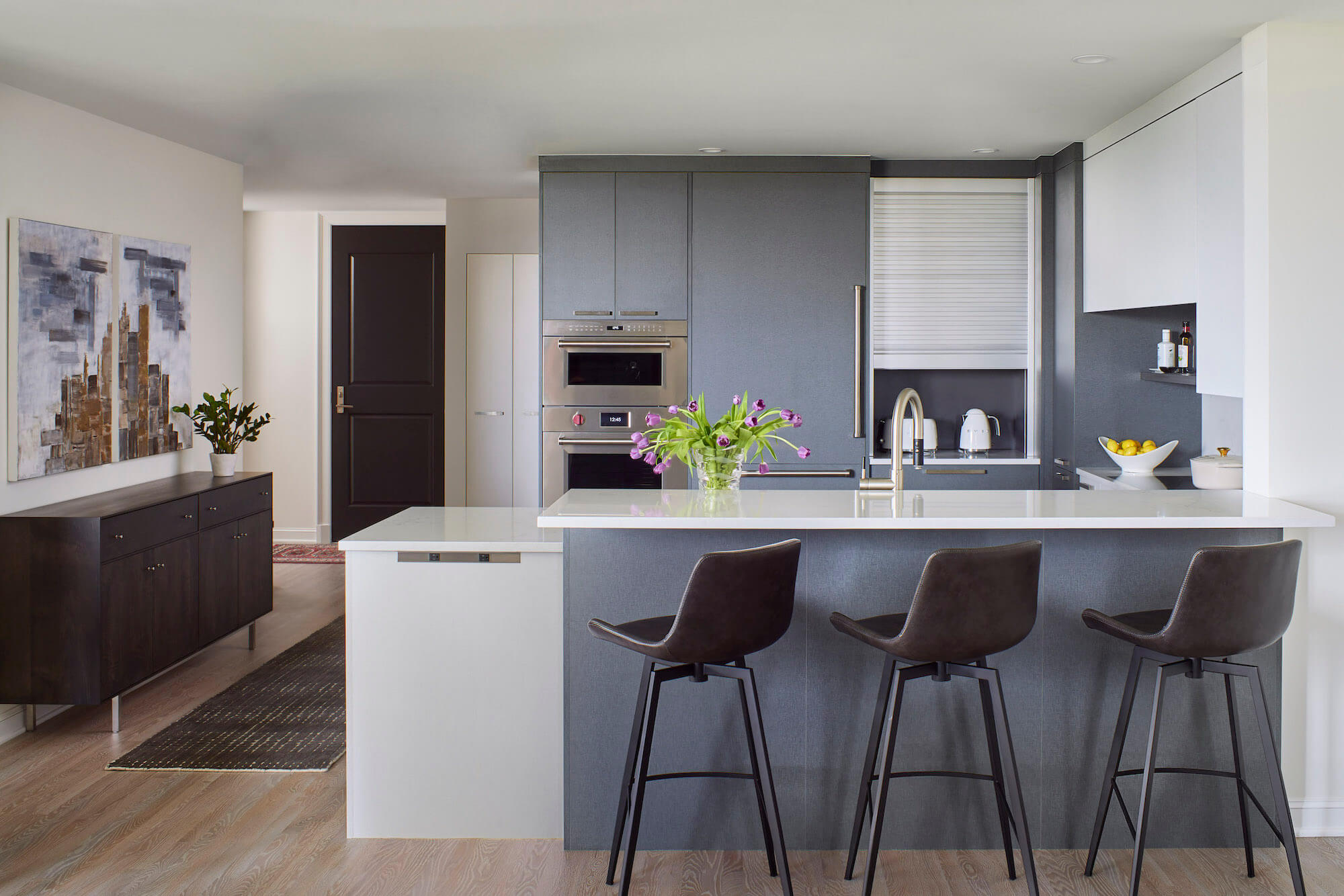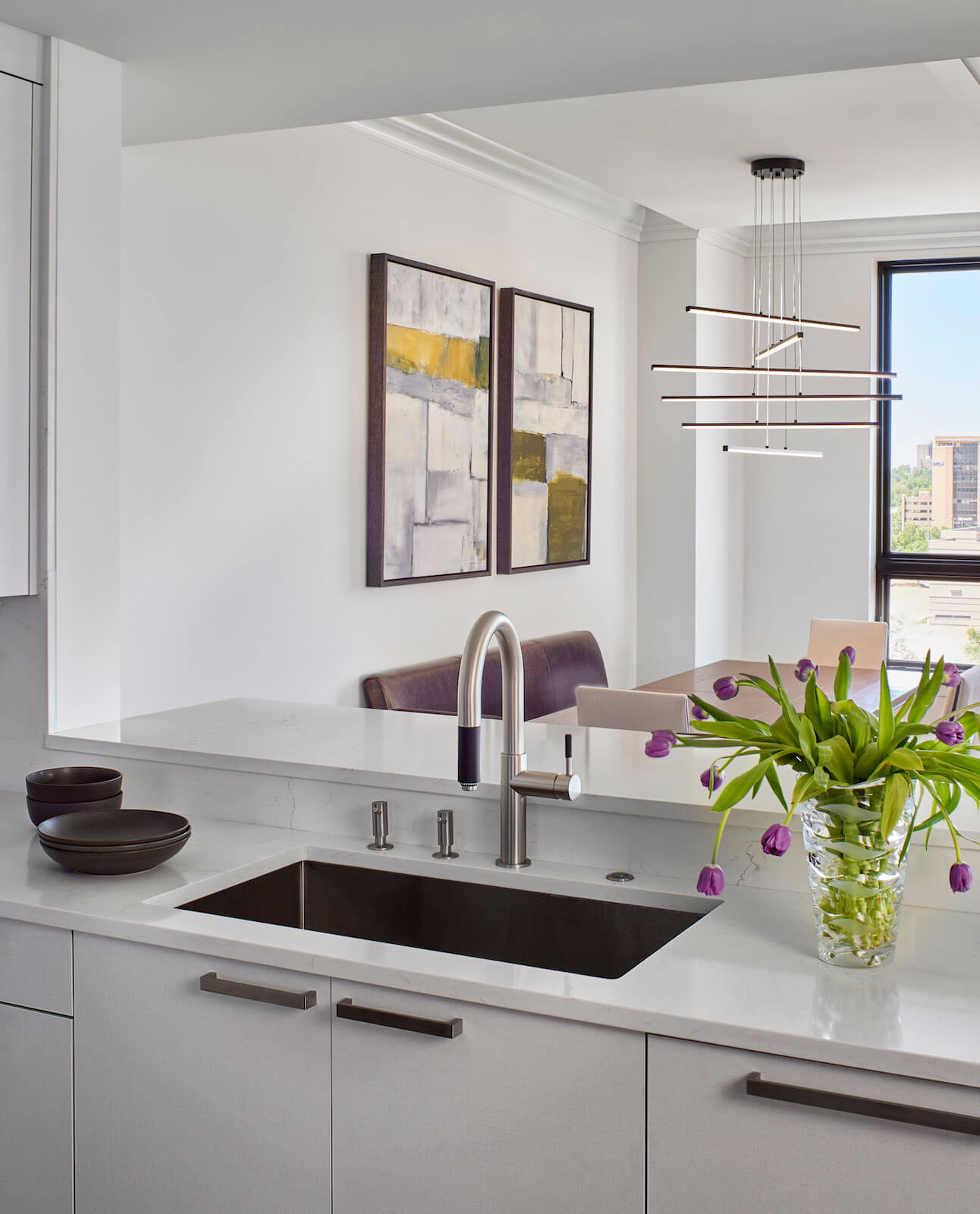 To enhance the connection between the kitchen and dining areas, we removed the wall that separated them and introduced an elevated eating counter. This not only improved traffic flow but also created a seamless transition between the dining room, living area, and a new bar at the room's end.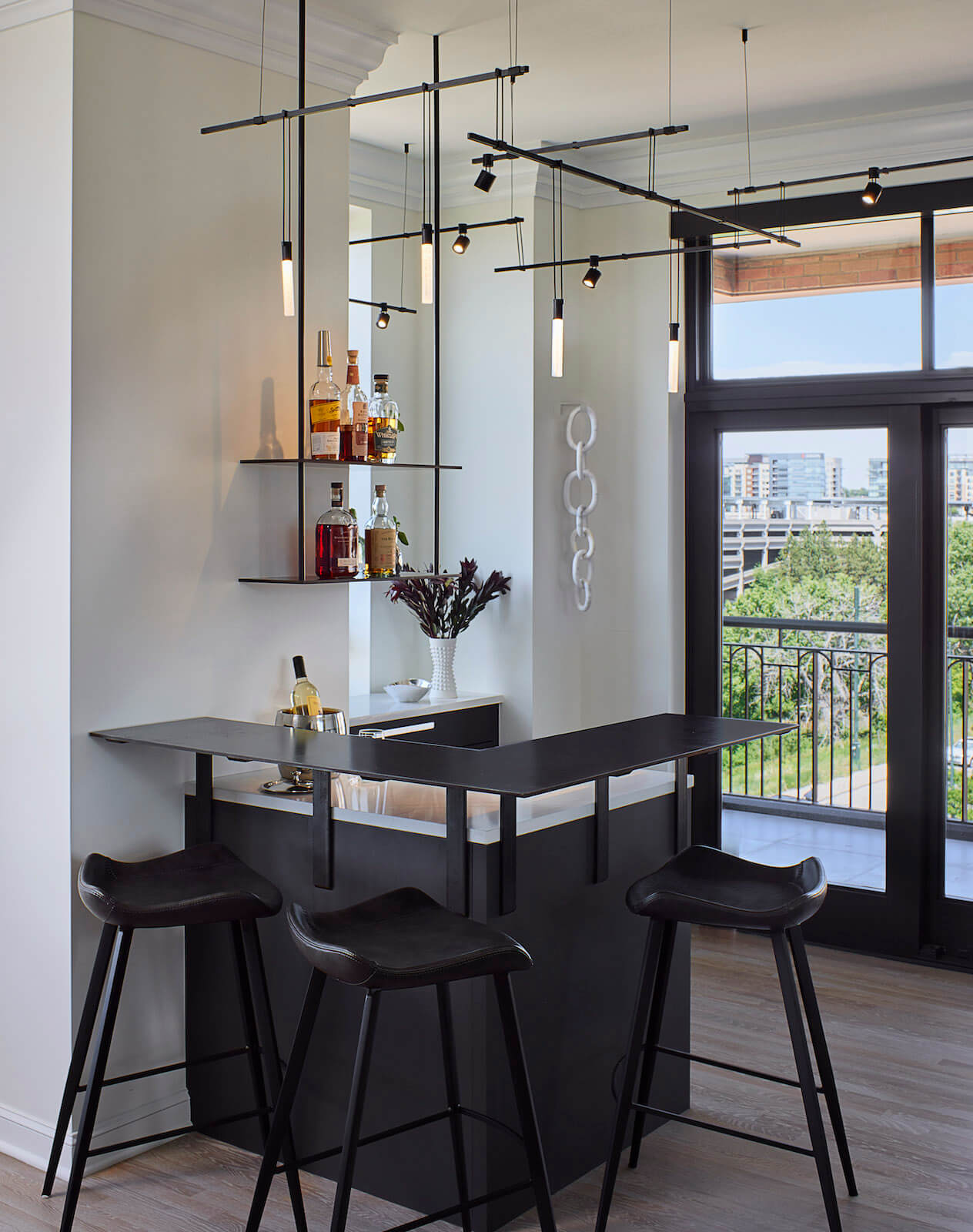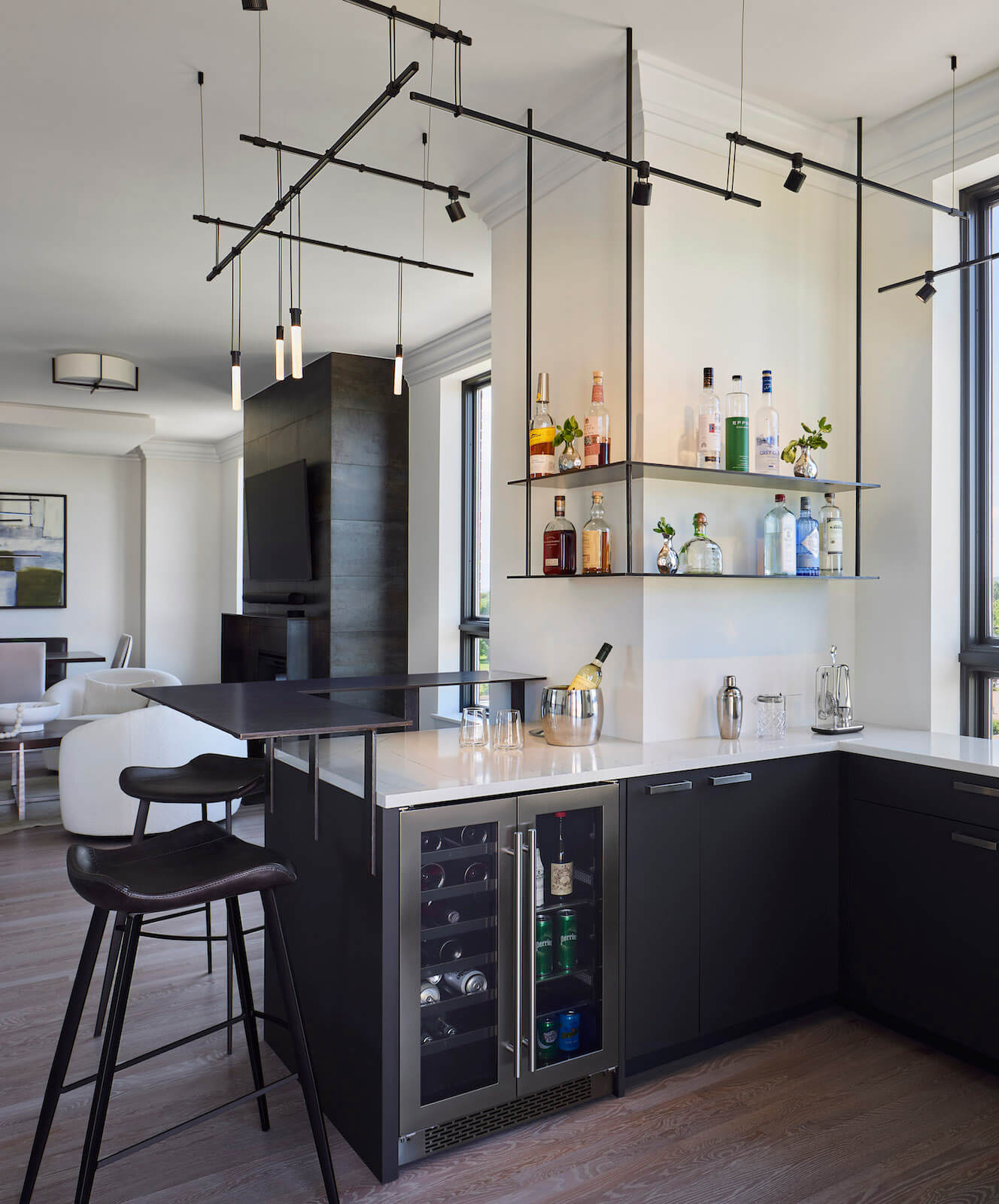 The homeowners desired a separate bar area, and although plumbing restrictions in a multi-story building precluded a wet bar, we designed an elegant dry bar solution. This dry bar, wrapped around a structural column, featured base cabinets in front of a window, cleverly disguising it as a piece of furniture. Floating shelves of cold rolled steel, suspended by cables from the ceiling, echoed the elevated bar top, creating visual continuity with the custom-designed fireplace mantel in the living room, harmonizing the entire space.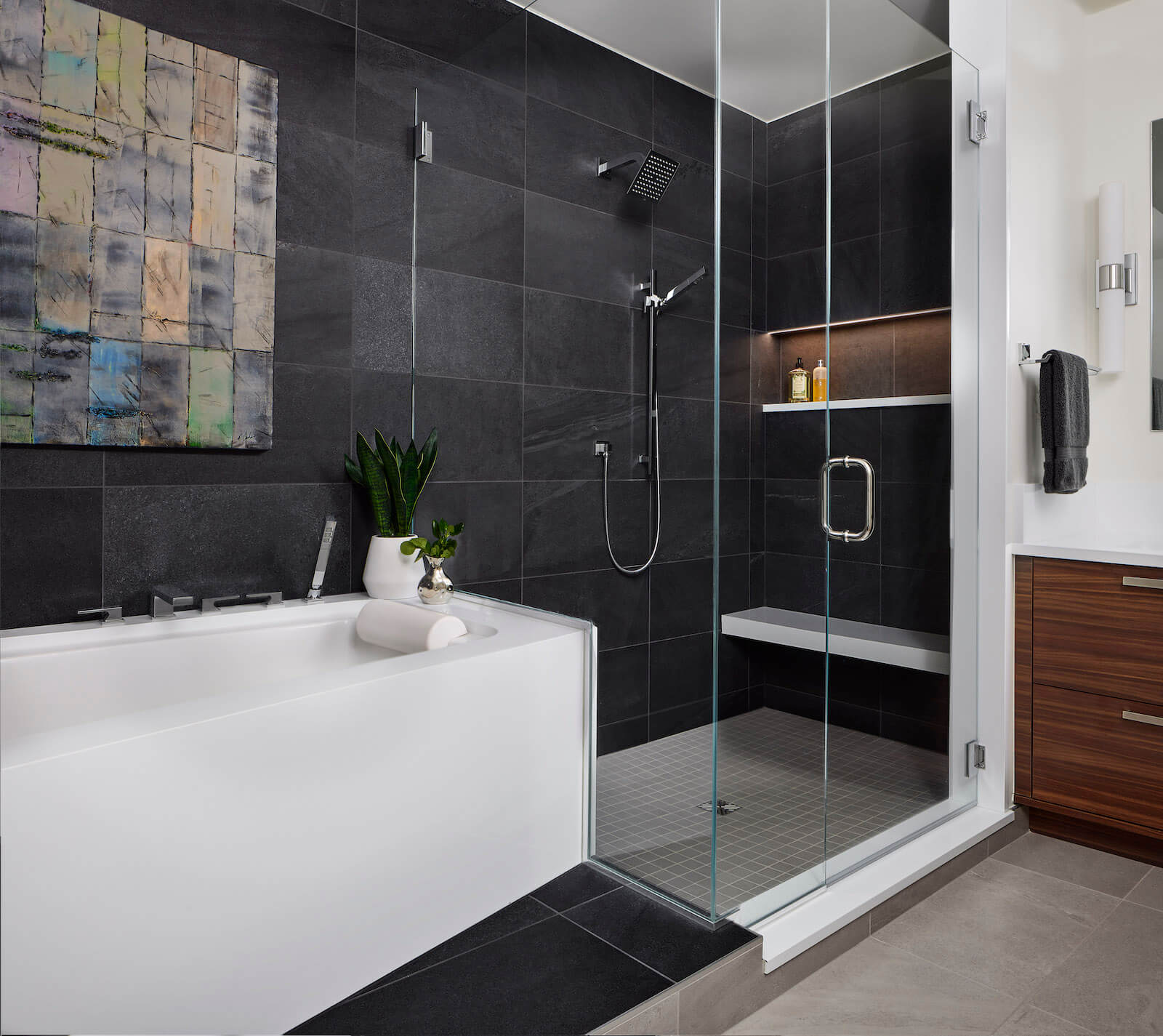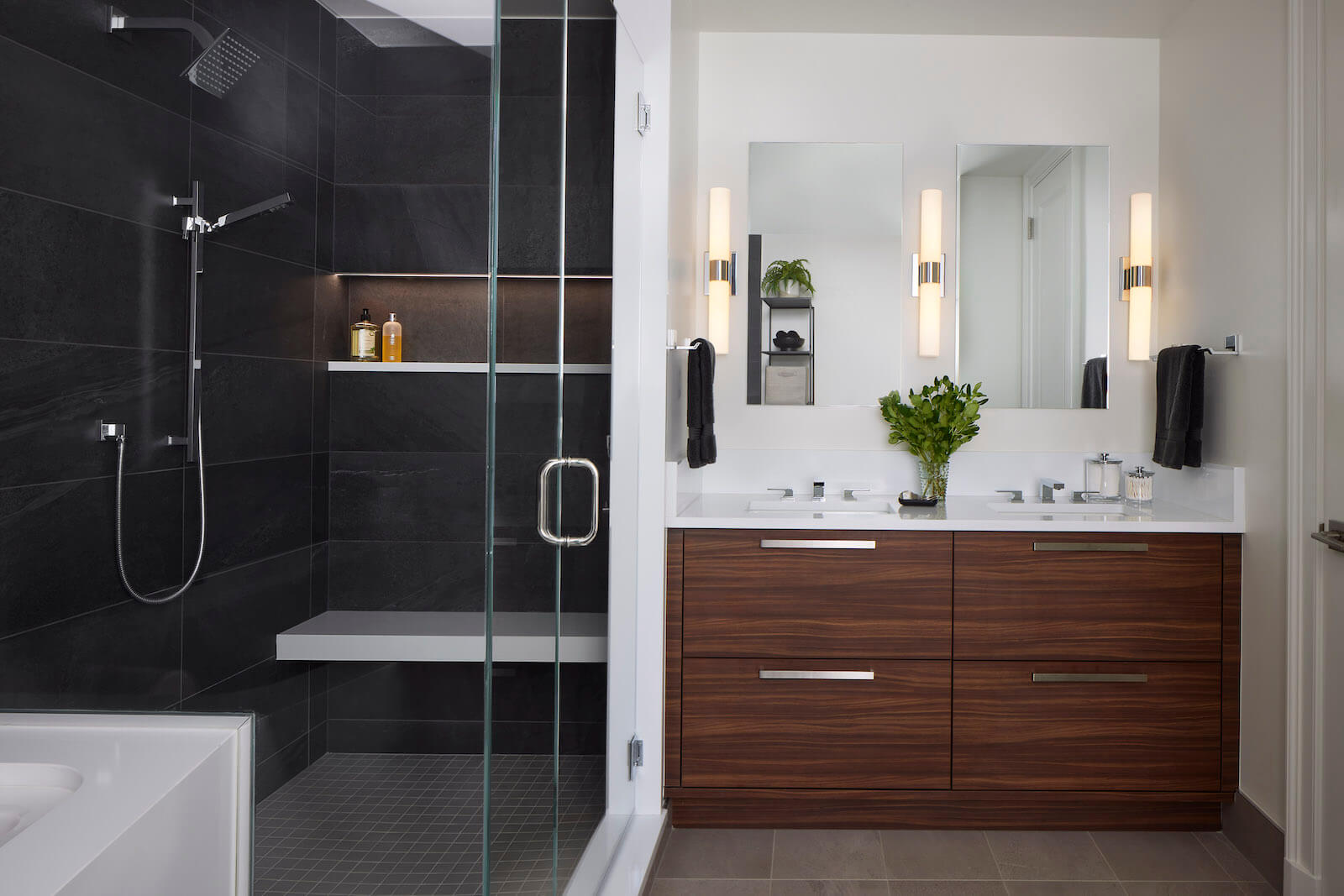 In the primary bathroom, the client's desire for a freestanding bathtub presented a unique challenge due to existing plumbing constraints. We sourced an unusual trapezoidal tub that cleverly intersected with the glass shower enclosure, resulting in a distinctive and visually striking compromise. To add drama and illuminate this space, we introduced a niche with ambient lighting. The dark and light theme from the kitchen was elegantly replicated here, complemented by walnut-fronted vanity cabinets subtly lit from below, creating a captivating nighttime ambiance.
The project was a harmonious fusion of contemporary design elements, efficient space utilization, and creative solutions, resulting in a sophisticated urban retreat tailored to the homeowners' lifestyle and preferences.
Design by Linda McLean, CKD
Photography by S. Brenner Photography.
Kitchen Distributors is your premier kitchen design firm serving the Denver and surrounding area. From your initial consultation, to kitchen design and development, all the way to installation, we'll guide you through every step of the process and bring your unique vision to life. Contact us today to get your kitchen dreams off the ground.