For the Kitchen Distributors team, the holiday season is an especially exciting time of the year. Why? Because not only do we get to take a pause to enjoy time with our loved ones, our clients also get to do the same – and with a new kitchen, we can only imagine the epic gatherings and delicious meals taking place in their "heart of the home". The memories made in a kitchen during the holidays are truly priceless.
With Thanksgiving fast approaching, we thought there was no better way to encourage memories made in the kitchen than with unique turkey day recipes everyone can have a hand in making. No matter how you celebrate or who you celebrate with, these seasonal favorites – with a twist – are sure to get you in the holiday mood. Enjoy!
Maple Glazed Spatchcock Turkey
Mix up your classic Thanksgiving turkey this year with this Maple Glazed Turkey recipe from Plays Well with Butter! This recipe takes your average holiday turkey to the next level with easy-to-make herb butter & a simple maple glaze. It's the most perfect, cozy combination of fall flavors! Roasting a juicy & moist Thanksgiving turkey has never been easier than this glazed spatchcock turkey! So let's try something new this holiday, shall we?
Ingredients
1 12-14 pound whole turkey, thawed & (optional) brined
maple herb butter
1-2 tablespoons olive oil
3 carrots, roughly chopped into 3-4 large pieces
2 yellow onions, quartered
2 cups dry white wine
1/2 cup pure maple syrup, divided
kosher salt & ground black pepper, to season
for Maple Herb Butter
1 cup (8 ounces) unsalted butter, at room temperature
1/2 cup pure maple syrup
4 cloves garlic, finely chopped or grated
1/2 cup finely chopped hardy fresh herbs, such as oregano, rosemary, sage or thyme
kosher salt & ground black pepper, to season
Instructions
Preheat the oven to 450 degrees F, ensuring a rack is positioned in the center of the oven. Remove the turkey from its packaging. There is no need to rinse your turkey (rinsing promotes cross-contamination). Instead, simply use paper towel to pat the surface of the turkey as dry as possible. If present, remove the neck & giblets from the cavity of the turkey. Discard or set aside for easy turkey gravy. Transfer the turkey to a large plastic cutting board atop a stable, sturdy surface. Place the turkey breast side facing down.
Add all listed maple herb butter ingredients to a medium bowl. Season with 1 teaspoon kosher salt & ground black pepper as desired. Mix to combine well. Set aside for immediate use, or store in an airtight container in the refrigerator for up to 1 week.
Spatchcock the turkey: Using very sharp kitchen shears or a sharp knife, carefully snip along each side of the turkey's backbone until it's completely detached. Discard or set aside for easy turkey gravy. Locate the top of the turkey's breastplate directly behind the turkey breasts. Place the heel of a sharp chef's knife in the center of the top of the breastplate. Use a rolling pin to carefully yet forcefully tap the spine of the knife, wedging the heel of the knife into the bone. Continue tapping until the bone cracks. Use your hands to stretch the inner cavity of the turkey as wide open as possible, then flip the turkey such that its breast side is facing up. Place your hands on the center of its breasts, on the breast bone. Use your body weight to apply pressure to the chest plate, cracking the bone all the way through such that the turkey lays flat – your turkey is spatchcocked & ready for roasting.
Use your hands to spread the prepared maple herb butter from Step 2 between the turkey skin & meat. Buttering the turkey meat directly helps keep it juicy & flavorful. If needed, use paper towel to pat the turkey skin as dry as possible. Drizzle the olive oil over the entire surface of the turkey skin, then season generously with kosher salt & ground black pepper. If you have any remaining maple herb butter, dot it over the top of the turkey.
Arrange the onions & carrots across the bottom of a roasting pan. (You can be as rustic as you'd like – no one will see!) Pour the wine over top. If desired, place the turkey neck & spine in the roasting pan, too, for extra flavorful turkey gravy. Set your seasoned spatchcock turkey over top, breast side facing up. Gently tuck the wing tips behind the breasts to prevent burning.
Transfer the roasting pan to the oven. Roast at 450 degrees F for 30 minutes. Remove the turkey from the oven for basting. Carefully brush the pure maple syrup all over surface of the turkey. Return the roasting pan to the oven, reducing the oven temperature to 350 degrees F. Continue roasting the turkey for 1 additional hour, removing the turkey from the oven every 20 minutes to repeat the glazing process. If desired, rotate the roasting pan 180 degrees each time you place it back in the oven to promote even roasting & browning. Pull the turkey from the oven once an instant-read thermometer inserted in the thickest part of the thigh registers an internal temperature of 155 degrees F.
Very carefully transfer the roast spatchcock turkey to a cutting board or large flat surface. Tent with foil & set aside to rest at room temperature for 30 minutes before carving. As the turkey rests, its juices will redistribute throughout the meat & its internal temperature will continue to rise to a safe 165 degrees F.
Carve, serve & enjoy!
Roasted Sweet Potato Stacks
A terrific sweet potato side! Crispy edges, buttery and salty, combined with the natural sweetness of sweet potato and a hint of rosemary. Use a mandolin to make short work of slicing the potatoes – or use this opportunity to practice your knife skills! Recipe from RecipeTin Eats.
Ingredients
2.4 lb sweet potato, unpeeled weight
3 tbsp unsalted butter, melted
2 tbsp olive oil
2 tbsp finely chopped fresh rosemary
1 1/4 tsp salt
1/2 tsp black pepper
Instructions
Preheat oven to 375F/190C (standard) or 350F/180C (fan/convection).
Peel the potatoes, then slice thinly (about 2 mm / 1/10″ thick). Transfer into a large bowl.
Add remaining ingredients. Toss well with your hands.
Place piles of the slices in the muffin tin. Don't worry if they are higher than the rim – they shrink about 25%.
Top each stack with about 1/2 tsp of the remaining butter mixture in the bowl.
Bake for 45 minutes, or until the edge of the top slices are starting to brown and the inside of the stacks are cooked (use skewer or knife to check).
Use a fork and knife to remove the stacks from the muffin tin. Optional: Brush tops with residual butter in muffin tin. Serve as soon as possible.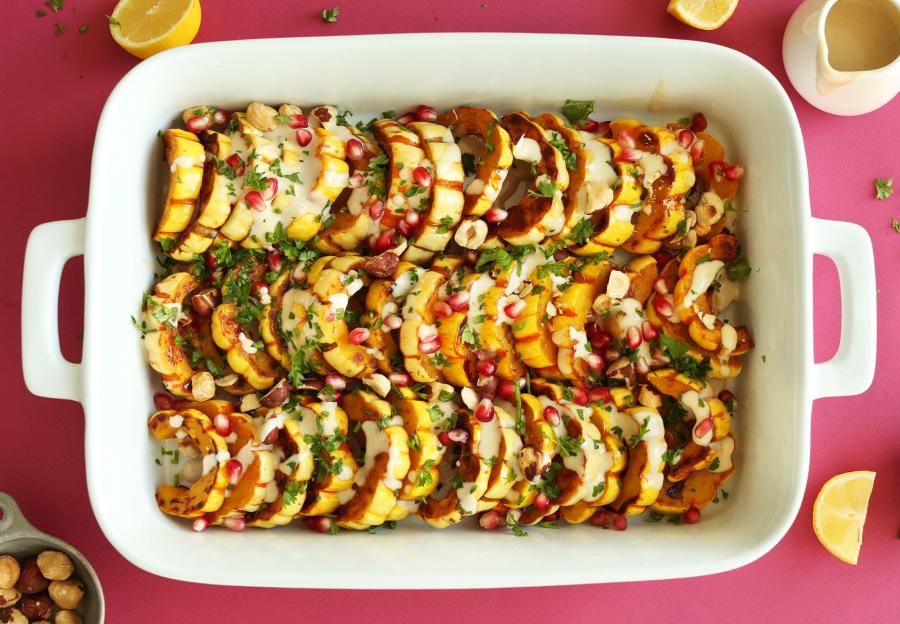 Delicata Squash Bake with Tahini Sauce
Thanksgiving is the perfect season to serve squash, and this recipe from Minimalist Baker will top any squash bake you had before. Thanks to fresh ingredients for a big boost of flavor, this is the perfect addition to your Thanksgiving spread.
Ingredients
2 delicata squash, halved lengthwise, seeds removed, cut into 1/2 inch slices
2 tbsp coconut oil, melted
1 pinch sea salt
3 tbsp tahini
1/2 lemon, juiced
1 tbsp maple syrup
1/4 cup pomegranate arils
1/4 cup dry roasted hazelnuts, loosely chopped
1/4 cup fresh parsley, chopped
Instructions
Preheat oven to 400 degrees F (204 degrees C).
Add sliced squash to a bare baking sheet (1 large or 2 small, depending on size of squash // as original recipe is written // use fewer or more baking sheets, as needed, if altering batch size) and toss with oil and sea salt. Then arrange in a single layer.
Bake for 20-25 minutes, flipping once at the halfway point to ensure even baking. You'll know it's done when fork tender, golden brown, and slightly caramelized (see photo).
While squash is baking, prepare dressing by adding tahini, lemon juice, and maple syrup to a small mixing bowl. Whisk to combine, then add hot water 1 Tbsp at a time and whisk until pourable. Taste and adjust seasonings as needed.
To serve, arrange baked squash on a serving dish and top with dressing, pomegranates, hazelnuts, and parsley. Best when enjoyed immediately.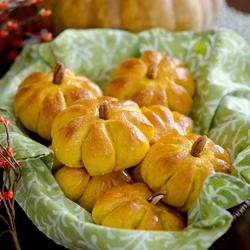 Pumpkin Dinner Rolls
These pumpkin dinner rolls by Beyond Kimchee look just like mini pumpkins. They are not only soft and buttery dinner rolls, but also easy and fun to make. Perfect for Halloween party or Thanksgiving feast!
Ingredients
3/4 cup whole milk scalded
6 tbsp butter softened
1/3 cup light brown sugar
1/3 cup white sugar
1 cup canned pumpkin puree
1 tsp salt
1/4 cup lukewarm water
2 envelope (about 4 1/2 tsp) active dry yeast
1 tsp white sugar
1 egg
5 cup + a little extra all-purpose flour
10 pecan halves sliced into 3 vertical sections
1/4 cup melted butter
Instructions
Pour hot milk in a large mixing bowl, add butter and stir to melt. Add sugars, pumpkin puree, salt to the milk and butter mixture; mix well.
In a small bowl, combine lukewarm water, yeast, and 1 tsp sugar. Wait 5- minute for yeast to proof. When it gets foamy, add it to the pumpkin mixture, and add the egg; mix well. Add the flour gradually and mix with a wooden spoon until well combined. The dough will be sticky.
Using electric mixer with a dough hook attached, beat the mixture on the low-speed setting until the dough itself pulls from the side of the bowl, about 5 minutes. You can add a little more flour if the dough seems too wet.
Turn the dough out to a wooden board dusted with a little flour. Knead with hand for 1 minute. Form the dough into a ball shape, place in a greased bowl and cover with a cloth. Let it rise in a warm place until it doubles in volume, about 1 hr.
Punch the dough to deflate. Knead the dough for a few seconds on a wooden board. Divide the dough into half and cut each dough half into 15 pieces, total of 30 pieces.
Roll each dough piece into a ball shape with your hand. Flatten the piece with palm of your hand a little. Using a knife, give 8 cuts on the edge to mimic flower pedals but leave the center uncut.
Poke the center with your finger to give a deep indentation. Repeat the same procedure to the remaining pieces.
Place them, 2-inch apart, on a baking sheet lined with parchment paper or baking mat. Let them rise again until they become double in volume, about 45 minutes.
Preheat oven 350ºF. If the center indentation doesn't look obvious on the rolls, poke them again with your finger. Brush with egg wash and bake for 9-12 minutes, until the top gets slightly golden.
Brush the hot rolls with melted butter immediately. Insert the pecan slices on the center of the rolls to mimic the stem.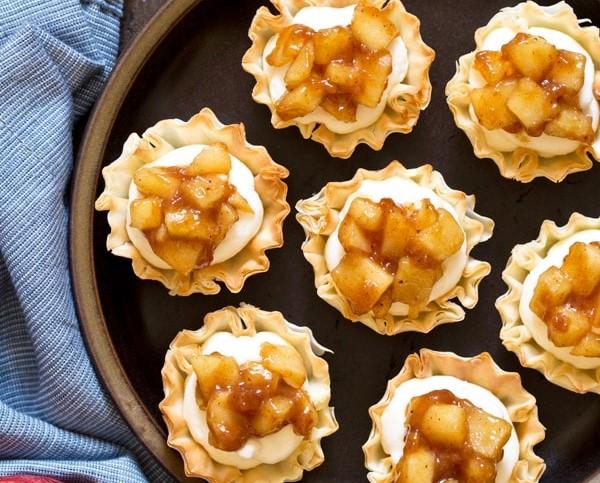 No-Bake Apple Pie Cheesecake Phyllo Cups
Get your apple pie fix in half the time with these No-Bake Apple Pie Cheesecake Phyllo Cups by Chocolate Moosey. No need to roll out pie dough or spend time baking the cheesecake filling. Just fill pre-made phyllo cups and serve.
Ingredients
Apple Pie Filling
1 cup finely chopped peeled apple
1/4 cup water
2 tablespoons granulated sugar
1 teaspoon ground cinnamon
1/4 teaspoon ground nutmeg
1/4 teaspoon ground clove
1/2 teaspoon cornstarch
1/2 teaspoon vanilla extract
Cheesecake Filling
1/4 cup heavy whipping cream, cold
4 ounces full-fat cream cheese, softened
1/4 cup granulated sugar
1/2 teaspoon vanilla extract
1 package (15 count each) mini fillo shells
Instructions
First, make the apple pie filling: In a large saucepan, combine the apples, water, sugar, cinnamon, nutmeg, clove, and cornstarch. Bring to a boil, stirring often. Once boiling, cook for 3-5 minutes or until thickened and apples are softened. Remove from heat and stir in vanilla. Cool while making the cheesecake filling.
For the cheesecake filling: In a large mixing bowl (with whisk attachment if using stand mixer), beat the heavy cream until it thickens and stiff peaks form, roughly 3-4 minutes (when you pull the beaters up, peaks will form and not fall over). Transfer to another bowl and keep cold in the refrigerator.
In the same mixing bowl (no need to clean bowl – switch to paddle if using stand mixer), beat together the cream cheese and sugar until smooth and creamy, about 2-3 minutes. Beat in vanilla. Scrape down the bowl.
Fold the whipped cream into the cream cheese mixture until fully incorporated. Chill the filling at least 1 hour before serving,
Pipe the cheesecake filling into each fillo shell then top with apple pie filling. Serve immediately or within a few hours before the shells get soggy.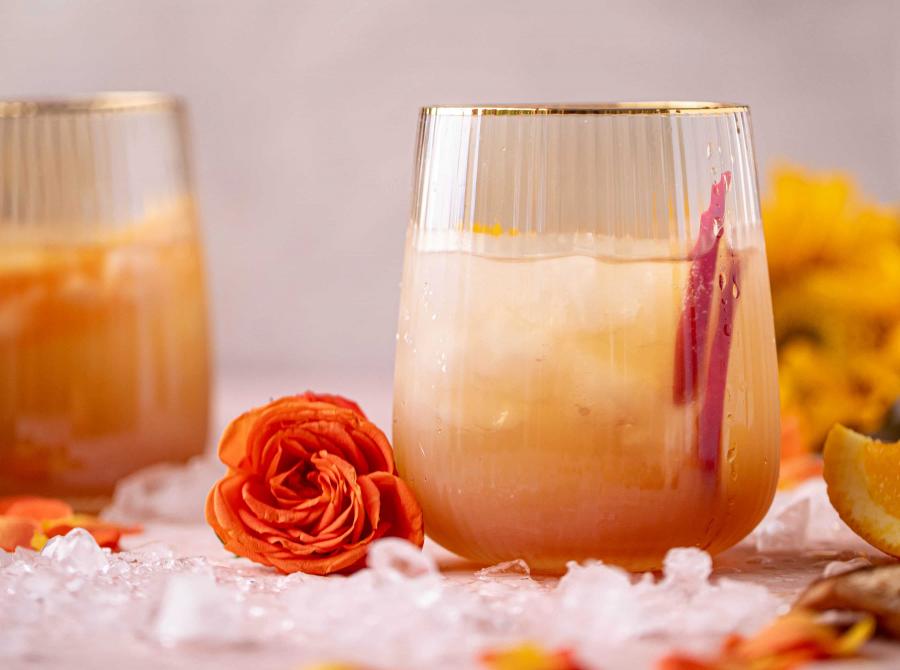 Apple Cider Prosecco Spritz
This apple cider spritz by How Sweet Eats is an autumnal take on the classic aperol spritz. Apple cider, prosecco and aperol come together in this refreshing cocktail!
Ingredients
2 to 3 ounces apple cider
1 ounce Aperol
2 to 3 ounces Prosecco
Splash of soda
Sprinkle of cinnamon
Apple wedges for garnish
Instructions
Fill a glass with ice. Stir together the apple cider and aperol.
Add the prosecco and the soda, along with a sprinkle of cinnamon and apple wedges. Serve immediately!