We have exciting news to share from Kitchen Distributor's Denver Showroom. We're ready to reveal our brand new, transitional chic showroom kitchen. The display's concept is a combination of all of Kd.'s designers' best ideas for this specific space.
"We want our clients to see our products in the same way here as they would in their home. We think about how the kitchen will be used more than anything. How a chef would cook, how the kids would eat and do their homework," says Morgan MacKay, the marketing director at Kd.
Our team predicts that 2021 will be another year that revolves around the kitchen, which has become the home's command center operating as an unofficial family room, at-home office, classroom, and, of course, a place to connect over a well-crafted meal.
More Coloradans are investing in upgrading or reinventing their beloved kitchens to make them timeless for the current era of kitchens' "expanded role." Here are the top 2021 kitchen design trends we incorporated into the showroom's luxury kitchen display and how you can bring it home.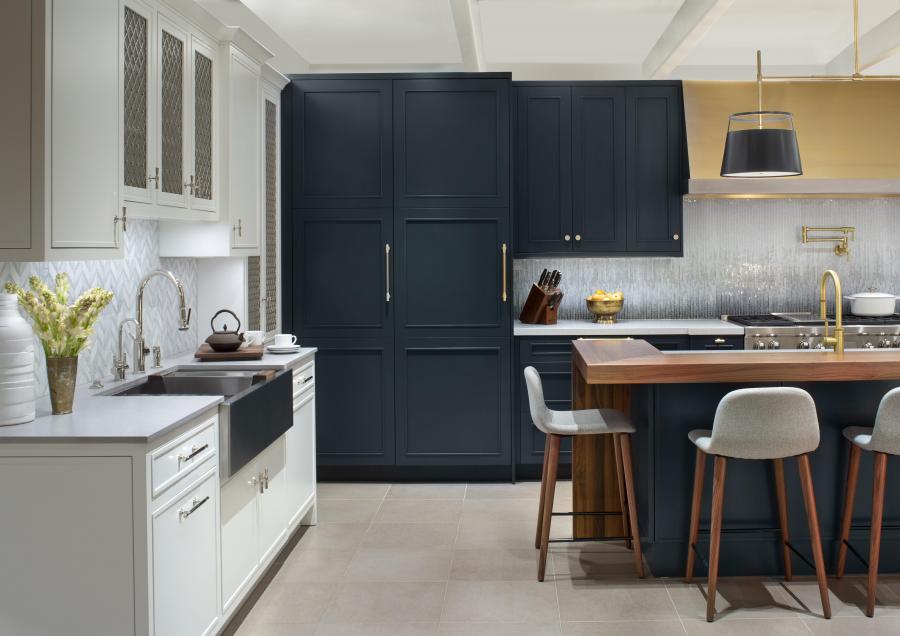 How to Hide Everything?
Beautiful organization and plenty of storage are a powerful duo that directed the new showroom display's design. Features and technology are discreetly hidden in each nook and cranny to maximize the space's square footage.
Designer Walk-Ins & Peek-a-Boo Pantries
There's ample storage thanks to two pull out pantries in the main kitchen area and a hidden walk-in pantry for easy access to snacks and other items.
Shelving Reshuffled
We maximized the usable space by keeping Grabill Cabinets just on the perimeter and using shelves along the back wall instead of standard cabinets.
Tastefully Hidden Technology
The Sub-Zero refrigerator and freezer drawers are discreetly hidden behind a beautiful walnut-clad facade. (No need for standard stainless steel appliances here.) We also hid technology, like a Miele coffee maker, just above the refrigerator systems.
On-Trend Fancy Finishes & Fixtures
Our team chose upscale finishes and fixtures to reflect what we love and what our Colorado clients are requesting. We're finding that even the most basic functions, such as a faucet, can have a fancy flair.
All that Glitters is Gold
The gold metallic hood from Weld-Wright Fabricators was one of the first elements we built the design around.
Investing in Beautiful Fixtures
The backsplash tile and hardware are often an afterthought, but our team knows these features act as striking accents. We sourced the artistic backsplash from Decorative Materials in Denver and UK-based Armac Martin supplied luxury brass hardware. We also selected Waterstone Faucets due to their high-quality, heavy-duty craftsmanship.
Upscale Appliances
Wolf is widely considered the top residential appliance company for a reason, excellent reliability and cooking power. The 48" Wolf range gives enough power and control for even the most accomplished chef while still being approachable and easy to use. If not, an accompanying Wolf microwave drawer comes in handy for the novice chef.
How to Design a Timeless Kitchen
It's the Kd. way. As leaders in the kitchen design industry for 68 years, we know that luxury kitchen design is as much (if not more) about function as it is about aesthetics.
The Case for Quartz
We opted for high-quality Silestone quartz countertops, a more durable and functional surface for families and hardworking kitchens compared to marble.
Bring this Style Home
Set up an appointment for an in-person or virtual walkthrough to discuss our new showroom display features and trends. A quick consultation is the best way to gauge your home's needs and how you can get this chic look.
Start Dreaming
Make sure to check out our Kitchen Design Checklist to help plan your project from start to finish. After you download the checklist, browse our gallery for some visual inspiration.