Dreaming of a new luxury kitchen for your home? Let's review a few of the latest kitchen design trends you'll want to know about if you're planning a renovation or custom kitchen design project in the upcoming year.
The Kitchen Distributors design team merges contemporary trends with elevated craftsmanship and high-quality building materials to construct luxurious, award-winning kitchens for our clients. We approach every custom kitchen design project with functionality in mind to create durable, timeless value for homeowners. Visit our Aspen, Littleton, or Denver kitchen design showrooms to experience the Kitchen Distributors difference.
Current Trends in Kitchen Design
Current trends in kitchen design balance traditional functionality and timeless aesthetic appeal to make attractive, high-functioning spaces. Natural materials, bold colors, and sleek hardware work together seamlessly to create an accessible gathering area and workspace that will quickly become your favorite room in the house.
Open Shelving and Cabinets
Installing open shelving above the countertops makes more room for smaller, decorative elements that add character to the kitchen. Ornate china and colorful dishware are popular choices for decorating this shelf space, as are small house plants. However, open shelving also comes with functional value in that it makes accessing essential kitchen items easier.
Open shelving can be constructed with wood, glass, or metal, depending on the other design elements in the kitchen. As a storage solution, it fits everything from the traditional country kitchen to sleek, contemporary designs. However, open shelving doesn't always match the needs of every homeowner, given that it has to stay clean and well-organized to avoid creating a cluttered appearance. Cabinets with glass panes serve as an elegant alternative to open shelving while still showcasing smaller decorative elements that give the kitchen a unique character.
Brass Hardware and Fixtures
Brass cabinet handles and hardware have quickly taken over center-stage for trendy, modern kitchen jewelry. The sleek finishes and luxurious appearances of these materials fit in well with a variety of countertop and kitchen cabinet colors. Bin handles and pull bars that utilize this type of metal often accent other metalwork within the kitchen, including light fixtures, range hoods, and appliances. The design team at Kitchen Distributors can help you select hardware that highlights the details of your cabinets and countertops to create an elegant kitchen experience.
Green & White Colors
Current kitchen color trends prioritize natural tones over colder, minimalist hues. Calming, lightweight shades of forest green have become increasingly popular in the past year, in part for their ability to create a comforting, relaxed atmosphere in an otherwise busy space. Green cabinets and accents also pair well with classic, dark wood cabinets and floors, creating a pleasant mixture of traditional and contemporary design. Other bold color choices that fit kitchen countertop trends include dark blue and gray.
White cabinets and countertops give new kitchens a clean, contemporary appeal that lays the foundation for minimalist design. For homeowners seeking to utilize modern aesthetics for their new kitchen, white adds sleek lines throughout the space. A white backsplash or tile arrangement also keeps the room bright and airy while maximizing the value of natural light.
Statement Lighting
Kitchen lighting is unique in its ability to add both aesthetic appeal and functional versatility for cooking and food preparation tasks. For modern kitchens, dramatic lighting elements help prevent the space from becoming too industrial and cold. In kitchens that utilize more traditional designs, statement lighting adds a stylish flair that contrasts other aesthetic components. In every kitchen, regardless of style, the overhead lights are essential to creating an atmosphere that matches the architecture of the space.
Custom Range Hoods
A designer range hood's ornate metalwork and finishes serve as a beautiful centerpiece to your kitchen that connects the design of your cabinets, countertops, and tiling. The location of the range hood affects the layout of the kitchen's other design elements. For example, if the stove is at the center of the kitchen island, there will be considerably less flexibility in terms of the range hood's design.
Prioritizing Functionality in Design
When designing a luxury modern kitchen, functionality comes first, and appealing aesthetics follow. In arranging a new custom kitchen, our team always considers how the home's occupants intend to interact with this space, including how much time they spend cooking and entertaining guests.
One of the most frequent requests for a new custom kitchen is the addition of more cabinets and storage space. Readily accessible storage elevates the room's functional value and versatility. A well-organized kitchen is both a workspace and a living space. It includes a range of features that make food prep, cooking, and entertaining easy and enjoyable.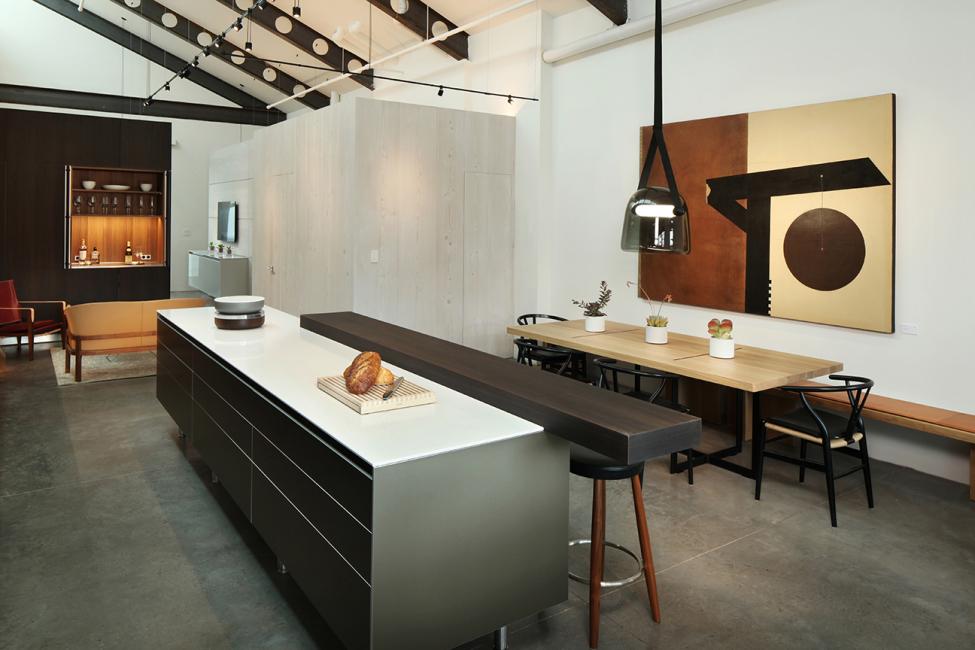 Creating a Timeless Kitchen
Regardless of your new kitchen's design style and aesthetic arrangements, it's essential to make sure that the space carries a lasting, timeless appeal. Current trends in kitchen cabinets, colors, and building materials only serve homeowners when they are built to last. To gather timeless kitchen design inspiration for your renovation project, browse our kitchen designs photo gallery.
Natural Materials & Colors
High-quality, luxury kitchen design begins with natural wood and stone building materials. Marble, granite, and quartzite are fantastic options for countertops, while wood cabinets and shelving offer more appeal than their stainless steel counterparts. The palette of the kitchen should match these building materials and steer clear of colors that are overly bright or dramatic, such as red and yellow.
Quality Craftsmanship & Design
Kitchen Distributors brings over 65 years of experience and an award-winning design process to every custom kitchen project. Our team utilizes timeless design principles and high-quality materials to create a space that will last a lifetime. Contact us today or visit one of our kitchen design showrooms to learn more about our process.