Just as spring cleaning is a once-a-year, necessary task, doing yearly maintenance on your appliances is too. Your appliances are an investment, and often some of the bigger ticket items in your kitchen, so ensuring they last their expected life span is important. Not only this, it's even better if your appliances last several years without having any major issues at all. To increase the longevity and quality of your appliances over time, check out our yearly maintenance checklist below!
Our professionals at Kitchen Distributors understand that designing your dream kitchen comes with a responsibility to keep it pristine throughout the year. It's your trophy, and the heartbeat of your home. Plus, keeping your home appliances in top condition will save you money from costly fixes in the future, and often all it takes is some soap and water (and paper towels) to clean your everyday coffee maker. Other times, like when cleaning a major appliance, it requires more time and effort.
Keep reading to see how to clean your home appliances properly to extend their use and shelf life in your kitchen.
Clean Your Refrigerator's Condenser Coils
Refrigerators, as we know them now, are a marvel of advanced technology – we often don't think about what goes into a refrigerator to create cold and freezing temperatures. The condenser coils play a critical role in the system that keeps your fridge producing cold. If your refrigerator all of a sudden isn't as cold, isn't operating as efficiently or has stopped completely, the condenser coils are likely the issue. To avoid this, it's important to clean your condenser coils once a year and rid them of dust and grime. Here's how to do it easily:
Unplug the refrigerator's power cable
Remove the grate or cover over your condenser – in most cases, this is along the bottom of your fridge
Clean the condenser cover gently using an all–purpose cleaner
Gently brush away dust from the condenser coils
Vacuum the coils with a soft brush attachment
Reattach the grate or cover
Clean Your Garbage Disposal
Anyone who has had their garbage disposal break down knows the hassle this small appliance causes when it stops working. This often happens when homeowners don't maintain regular cleaning or the correct use of the appliance. Unlike some of the other items in this checklist, the below garbage disposal maintenance should happen more frequently:
During/After Every Use: Keep a steady flow of cold water during and after every use. Keep the flow going for approximately 15 seconds after grinding has ceased to ensure that the food washes through. Hot water can cause fat to conceal and stick to the blades and interior. Also, cold water helps keep the unit from overheating.
Occasionally: Occasionally put a small amount of ice into the garbage disposal and run it to keep the unit clean. Make sure you put the rubber stopper over the opening before you run it to keep ice pieces from flying out.
Once a Month: Use a disposal cleaner or generic degreaser occasionally to keep fat from building up. This will help with the unit's efficiency and eliminate odors.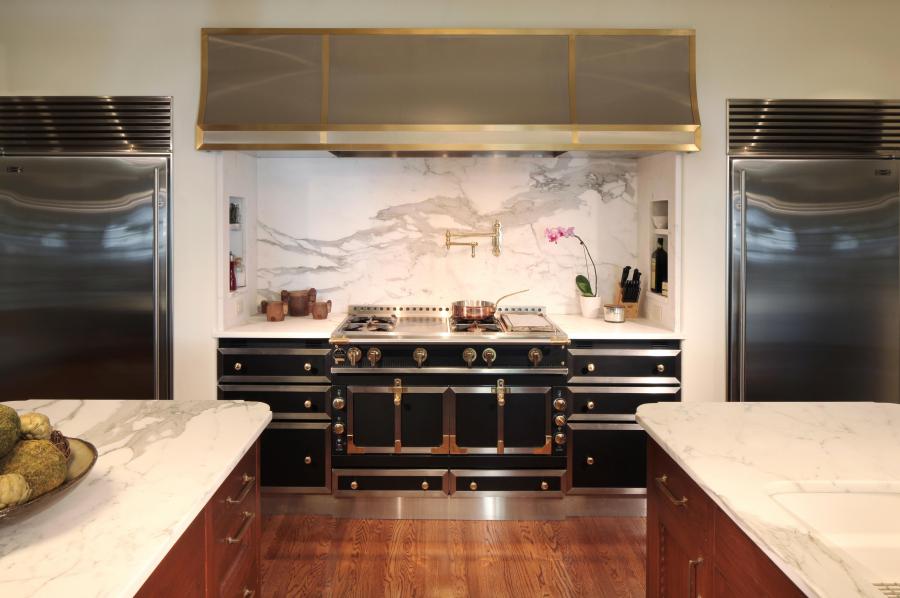 Clean Your Range Hood's Air Filter
The air filter is part of your vent hood that removes particles and smoke from the air before pushing it outside of your house or recirculating it. There are two kinds of filters: metal and charcoal. Both of these kinds of filters can be easily removed for cleaning or replacement, which should be done on an annual basis at a minimum.
Metal Filter: Simply remove the filter and then put it in a small bin or appropriate container filled with enough degreasing solution to cover the filter completely. Once all the grease has been dissolved, give it a thorough wash in warm, soapy water. For good measure, put it in the top rack of a dishwasher and run a cycle. Before reattaching it, make sure it is completely dry.
Charcoal Filter: The removal process will be much the same. The only difference is that you can't clean one of these filters with soap or detergent, or any other cleaning products. It is a good idea to replace a charcoal filter annually, or whenever it begins to lose effectiveness.
Deep Clean Your Oven
If you're wondering how often you should give your oven and stove a good scrub, the answer is at least twice a year. Here's how to give it a good, deep cleaning:
Only clean a fully cooled-off oven.
Unplug your oven if you'll be cleaning it by hand with a wet cloth. You can also switch off the circuit breaker if the plug is too tricky to reach.
Do not remove the knobs to your burners. If a chemical cleaning solution gets behind the knobs, it can damage your oven wiring.
Remove the oven racks for a soak, scrub, and dry before returning.
Use a wet cloth with either a gentle store-bought or vinegar and baking soda solution to wipe down the inside of the stove. Let hard to clean areas soak before scrubbing with the towel.
Allow the oven to dry before use.
Remember to plug the oven back in or turn back on the circuit breaker.
While cleaning your oven, you should also take time to inspect your gas line to ensure it's still in tip-top shape. Also, remember that piece of pasta you accidentally flung behind the oven when you were cooking? Use this cleaning time to pull your oven out and clean anything on the floor underneath and behind it.
Inspect & Clean the Spinning Arms of Your Dishwasher
Deep cleaning of your dishwasher is recommended on a monthly basis, but one step that often gets overlooked is inspecting and cleaning the spinning arms at the bottom of your dishwasher. You'll want to make sure you do this yearly, at a minimum. If the arms aren't spinning properly or the holes in them are full of buildup from dish soap or other food debris, your dishes won't get thoroughly cleaned. To do this step, check to make sure that the arms spin correctly and clean out any debris that has accumulated inside the holes with a small piece of wire, a toothpick, or small pliers.
As you're breaking down your appliances to hit the yearly maintenance checklist above, have you realized it's time for a renovation?
Make sure to check out Kitchen Distributors' Kitchen Design Checklist to help plan your project from start to finish. After you download the checklist, browse our gallery for some visual inspiration.
Kitchen Distributors is your premier kitchen design firm serving the Denver and surrounding area. From your initial consultation. to kitchen design and development, all the way to installation, we'll guide you through every step of the process and bring your unique vision to life. Contact us today to get your kitchen dreams off the ground.